LAB REPORT #2B:  TIMELINE VERITE
Introduction
I attempted to create a timeline for Gracie Mitchell, the woman interviewed as part of the Federal Writer's project. In addition to dates from her life that she described during the interview, I researched the significant dates for the quilt patterns which she showed to her interviewer in 1938.
Materials
Gracie Mitchell's interview transcript notes, recorded by FWP WPA interviewer Bernice Bowden in 1938. This data is located in the Library of Congress, and the interviewer included two pages of notes. One page lists all of the quilts that Mitchell showed Bowden that day, and another page had listed details such as Mitchell's exact duration in each state that she lived and the years that she moved.
Brackman, B. (1993). Encyclopedia of Pieced Quilt Patterns. Paducah, KY: American Quilter's Society. This is a reference book that is used by quilt scholars and researchers to identify patterns. It is unique because of the classification scheme and the research put into finding the historical origins of each pattern.
Google Sheets, TimelineJS, The Quilt Index, Google, Wikipedia, Soundcloud
Komodo Media. (2013). Quilt Timeline Explorer. International Quilt Study Center & Museum. Educational. Retrieved from http://explorer.quiltstudy.org/timeline.html. This is the timeline that I posted on the Tumblr for class.
Method
Created a list of dates for Gracie Mitchell based on the information in her interview.
In class used the TimelineJS platform to create a spreadsheet with the correct fields, and filled them in with Mitchell's information.
Supplemented that list by looking up the quilt patterns she mentioned in the Brackman Encyclopedia. Added the dates for the earliest official publication of each pattern that I could find.
Searched the Quilt Index for occurrences of some of the patterns in quilts made between 1800 and 1849, but ultimately did not have enough time to finish this. Since the spreadsheet is live I will be able to add the remaining patterns in, making it more robust.
Did research on the internet using Google and Wikipedia, in order to find significant dates in needlework or for events that occurred in the states that Gracie Mitchell lived at the time she was there. Found one song to play with Soundcloud to test that out.
Filled in more fields on Google Sheet that was created for me by the TimelineJS platform, which we began in class, but changed my font and map design choices.
Uploaded the embed code to my Runaway Quilt Project website, creating a new page in order to view the timeline.
Results/Discussions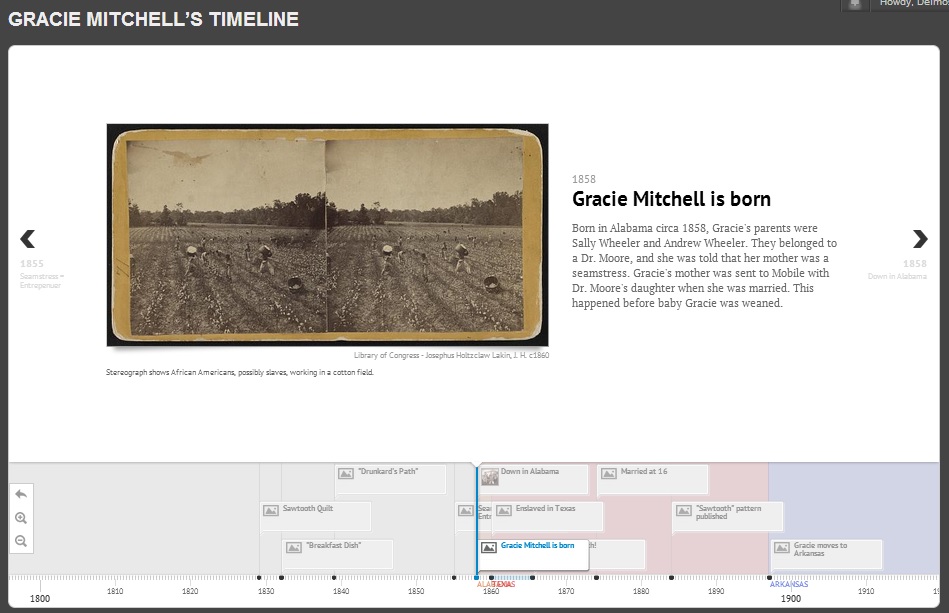 TimelineJS was a very easy to use program for organizing multimedia time-series data. A rich timeline could engage users for well over an hour if there are videos and links out to sources on the web. Teachers and student can use this in the classroom very successfully. As a teacher this would be something that could be created prior to the lesson, or during the lesson with students filling in the live Google Spreadsheet. As a student this would be a way to present time-series information instead of doing the typical slide presentation. I chose to start the slideshow immediately prior to Gracie's birth, since she is the main subject, but I am afraid users may not think to click to the left and will miss out on interesting information about quilt patterns in regular use before being officially published.
The biggest problem that I had was fitting the timeline on my webpage without a horizontal scroll-bar appearing below the timeline, even when I reset the size to 95%, then 90%, then 85%. For some reason when I edited the embed code and republished the page, at first it still retained 105% as the width. I finally realized that I needed to "Paste as plain text". Once I did that to copy & paste the embed code, I was able to change the pixel size and percentages and save changes effectively.
Future Directions
I need to find a folk song that is more appropriate to the time period, and add in the images of the remaining patterns from the Quilt Index. Since this is based on a live spreadsheet, I can see myself adding to it over time. I am trying to envision a quilt top that is a timeline, and all that I can think is that something linear would have a winding path like a board game. I am interested in trying some sort of time-series heat map using the spreadsheet of 741 quilts from 1850-1875 that I created from the Quilt Index.